We all know the situation is a bit delicate. Consequently, we want to share with you some ideas, some activities you can do at home with your family or on your own. Therefore, from now on, we will post more often, so you will have something to read and hopefully forget about the fact we can't go out.
First of all we need to be ready to try new things and try to see the bright side of every situation. It is true that it's being a little bit strange, dealing with our routine indoors.
But on the other hand, it seems like society is changing because we are getting closer and closer, in other words, more supportive, trying to cheer each other up and that it certainly a positive sign.
As a result of the free time people have, some incredible videos are circulating on the Internet showing people spending sometime together even though we are in quarantine. If you want to see our favorite CLICK HERE. It is about people playing bingo from their windows. It truly shows the compassion and the sense of community emerging around us.
So, our first suggestion is board games! We are sure we all have an old and dusty corner in our closet with some games like bingo, Cluedo or Monopoly.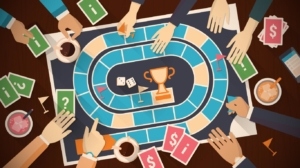 What is more interesting is that we usually forget what spending time with our relatives is like. So, why don't you sit down and chill playing together? Furthermore, you can practice you English or Spanish saying the numbers or reading the rules online. On top of this, there are some websites that are offering games to play at home like Cambridge English. Some fun apps to install on your phone or tablet and to keep learning. CLICK HERE to discover them. Or CLICK HERE if you want to practice your Spanish.
The key here is not to lose the motivation, and keep stimulating our mind in order to create and do a different activity every day.  we will avoid spending all our time watching TV or with our phones.
The last thing, our classes are still on, in a very different way, online. You can call us for more information.
Don't forget so be safe and like us, stay at home to help.
https://dev.iiischools.com/wp-content/uploads/2020/03/familia-home.jpg
480
852
Anna Vinciguerra
https://iiischools.com/wp-content/uploads/2017/01/Logo-III-288x156.png
Anna Vinciguerra
2020-03-27 11:00:35
2020-03-23 12:51:20
What can we do at home?